Mortise locks
Made in Germany
The mortise locks which are used are as diverse as the requirements of a door are different.
Many years of experience have been invested into CES locks: they are continuously advanced, regularly checked, certified and are always made in Germany, by CES.
Quality locks
CES offers you high-quality mortise locks for your doors. Our locks distinguish themselves with the selected materials and the way these have been processed. The components mesh as reliable as a Swiss clockwork.
The available finishing of the striking plate and forend surfaces matches your quality lock elegantly with your door. Our product range comprises locks for the contract business, locks tailored to customer-specific requirements, and special locks intended e.g. for sliding doors in surgery areas in hospitals. The product portfolio is complemented by innovative lock solutions for refurbishing.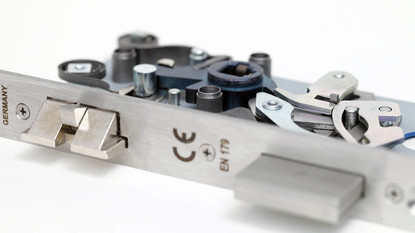 The finishes make the difference
Various forend and striking plate finishes available
Thanks to its electroplating plant, CES is able to offer a wide variety of colours and finishes: satin or glossy, brass, burnished, stainless steel, white…

Sometimes, the critical fact for receiving an order in the contract business is that the lock adapts to the given design concept. Upon customer request, our electro-plating experts finish forend and locking plate of the lock.

Correspondingly, the visible lock parts were coloured in noble "Armani brown" in the Armani Hotel in Burj Khalifa.