Locking systems made-to-measure
The locking system matching your building
The technical duplication protection, a vast variety of variants, extremely stable nickel-silver keys, and the practical packaging concept are unique features of CES locking systems.
Locking system with increased duplication protection

All locking systems are patent-protected and comply with the most stringent DIN/EN requirements. The latest product by CES is the WD vertical reversible key system. It is particularly user-friendly, and thanks to the undercut technology and numerous active locking elements, it offers a high technical duplication protection.
Types of locking systems

Locking systems are your choice if you want to lock many doors with one single key. Locking systems can also serve as an organisational tool since they allow the implementation of hierarchically structured access authorisations. Locking systems reflect internal organisational structures or reflect the typical usage of the building.
A locking system should be planned in close cooperation between the developer and the planning office. Only this will ensure that an ideal locking plan structure is found which affords the flexibility to make changes and extensions even years after its initial installation. These specific requirements determine what type of locking system is installed.
Central locking
system  (ZHS)

Combination of central and master key system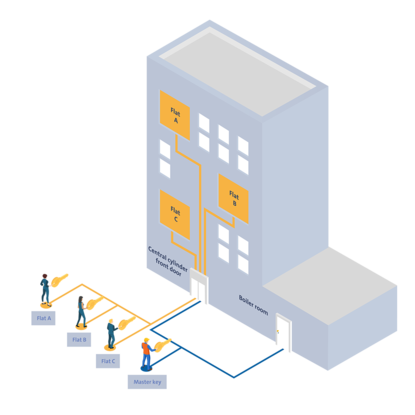 In an apartment building, each tenant has a key that only fits his flat, his letterbox and his tenant cellar. At the same time, the tenant can use his key to lock the central cylinders, which are used, for example, at the front door, at the garage entrance or at the central waste station. The caretaker has a master key with which he can lock the front door and e.g. the boiler room.

Examples of use: Apartment buildings, housing associations

Master key
system (HS)
One key locks and unlocks all cylinders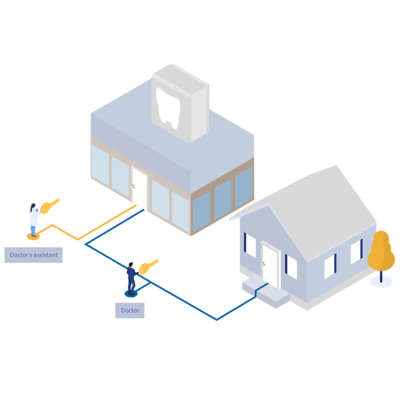 The owner uses their self-contained flat in their detached house as a dental surgery. They can lock and unlock the doors to their surgery and to their private rooms in the house with their master key. The employees of the surgery receive keys which only grant access to the surgery.
Further areas of use: Law firm, shared offices, smaller companies
Grand master key
system (GHS)
Unlimited organisational freedom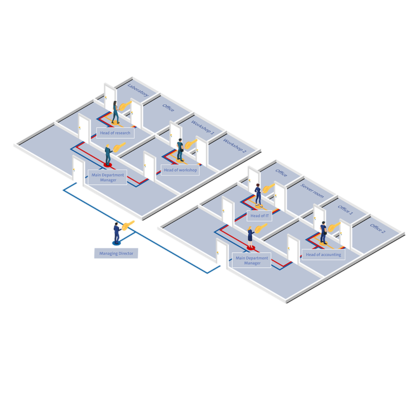 Basically, a grand master key system is a combination of several master key systems with a higher-order grand master key. With CES grand master key systems, even the largest building complexes can be managed systematically. Apart from the grand master key, which can operate all the cylinders in the locking system, there are group master keys, group keys and sub-group keys on various hierarchical levels.
Examples for usage: Hospitals, airports, very big building complexes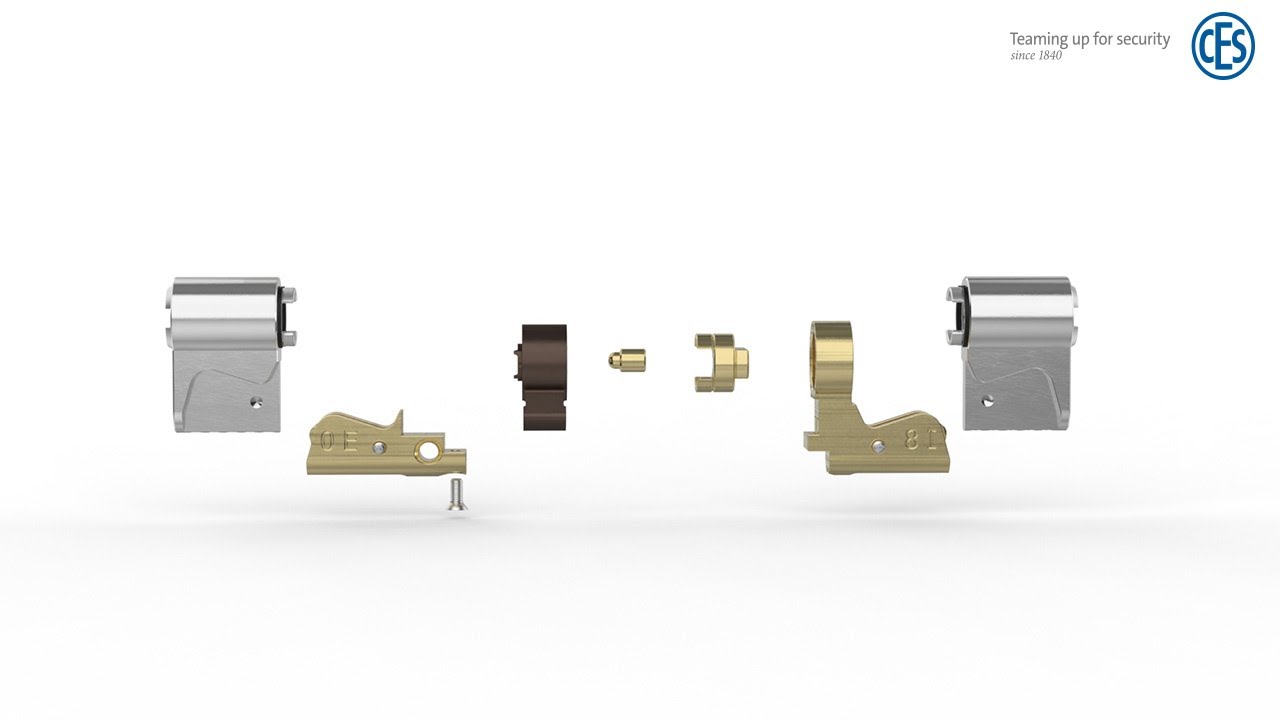 Modular System
Security – off the shelf
The modular system is suitable for use in construction projects with unknown door thicknesses, emergency service (locksmith operations) and renovation projects of large residential complexes. The half, double and also knob cylinders can be adapted to the respective door thickness on site with the practical extension kits (MOKI).

The locking cylinders are high-quality, precision-machined units and make a good visual impression. The modular system is available for all customer profile systems and is supplied with ready-to-use cylinder modules.

Packaging which offers everything at a glance

Everything in its right place
The modular packaging system is made of individual trays with a defined slot for each locking cylinder and each key. The trays are handy, can be stacked, and allow the components to be put together as required. With regard to the locking system type and the different installation phases, all locking cylinders and keys are assigned to the matching tray in accordance with their order in the locking plan. The packing list simplifies checking the incoming goods, as well as quickly finding the correct cylinders in the package during installation.
More information on the unique packaging concept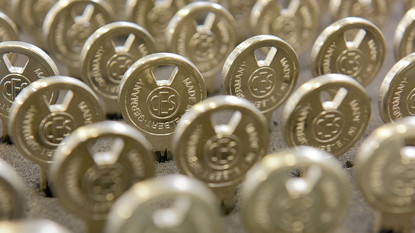 Stable nickel-silver key

Unique, modern, handy
Due to their feel, look and user-friendliness, CES keys provide maximum user comfort.
Their big key heads enable the transmission of higher torques. Therefore, they are particularly suited for their use on modern doors with high thermal insulation.
The key shank is at least 14 mm long and perfectly suited for commercial handle sets with cylinder covering.

Diversity of colours

When internal and external values count
In the high-end contract business, as well as for luxury buildings, not only high-quality locking technology is requested, but also the same appearance for all door handle sets, which often additionally need to match design elements in the room.
With its own electroplating plant, CES is able to offer a wide variety of colours. These include surfaces painted white, brown or with clear lacquer, which are suitable for polished, brushed and chemically coloured, burnished surfaces. We are also able to deliver different metal surfaces such as copper, nickel, chromium and gold, as well as metallic colours like stainless steel and bronze.
More about our variety of colours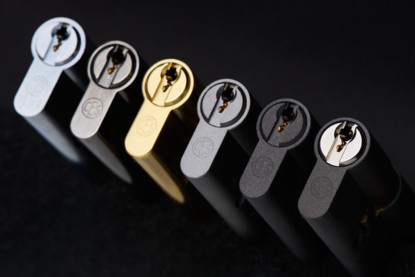 Related topics
About your locking system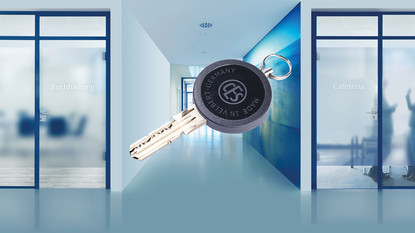 Can be combined with electronic locking systems

CES's mechanical locking systems can be combined with their electronic locking systems. The combination of both systems has often proven to be useful in practical applications.
The combined key allows you to operate the mechanical cylinders and the electronic locking devices at the doors.

The CES OMEGA FLEX electronic locking system