Mechanical locking systems
Not just another TS007 Cylinder!

CES launch an Industry-leading standard feature that spans an entire product family!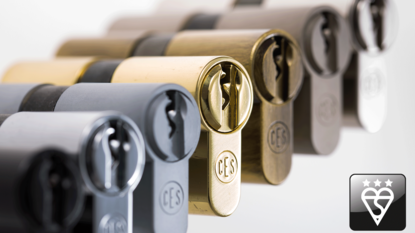 This feature has been developed to meet the TS007 3-Star Standard for Cylinder Locks with Kitemark Approval. It offers protection against forceful attacks in which a burglar might attempt to break off ("snap") the cylinder lock. A predetermined breaking point and a sophisticated locking mechanism ensure that even after the cylinder body has been snapped on the outside, the attacker cannot gain access to the cam. While on the outside, the rotating mechanism is blocked, the lock can still be locked and unlocked from the inside using the key or thumbturn depending on the variant used. This is particularly important for emergencies like fire. As standard, the front part of the cylinder is provided with highly effective anti-drilling, anti-pulling and anti-bump technology. In addition, the section between the predetermined breaking point and the cam is protected against drilling by hardened metal elements
Available across the CEScylinder Range of Products
Backward compatibility for use in existing system
Available across the full range of CESflavours Finishes
Various lengths available including offsets
Thumbturn Variants
Available keyed to differ, keyed alike or as part of a master key system
Available with three key change function

What is the TS007 Kitemark?
To provide protection to the TS007 standard, the cylinder needs to withstand 5 types of attack (picking, drilling, bumping, snapping and plug extraction). Most Kitemark Approved cylinders will protect against some of these attacks, but as criminals adopt new ways of attacking your cylinder, new ways to protect doors are required. To effectively protect your door, DHF advises that the lock cylinder and door handles on entrance doors should meet the highest standard and protect against all these latest forms of attack. Secured by Design (the Association of Chief Police Officers' crime prevention initiative) has worked with DHF and the Glass & Glazing Federation (GGF) to develop the TS007 standard. 
Source: Door & Hardware Federation (DHF)
Which Flavour would you like?
Unlike many security manufacturers CES have their own in-house plating facility, out of which they can supply cylinders and locks in a wide range of finishes: Lacquered, varnished, brushed, polished, enamelled and chemically coloured fi­nishing methods in copper, nickel, chrome, gold, stainless steel, brass and the ever popular bronze are all standard products. A finished, plated locking mechanism is one thing but a highly durable and tested plated product, is another entirely!
CES UK have invested heavily in developing a TS007 3 Star Cylinder solution that is not a stand-alone product, but rather a technical feature that is available across the Product Range & Finishes. Whatever the demands of the property, CES supplies the right system. All CES Cylinders benefit from patent protection and meet the highest DIN/EN requirements. All CES Cylinders can be supplied as part of a Master Key System and are available with a full range of Thumbturns.