The Maria Hilf Hospital
Efficient in every aspect
The requirements a locking system has to comply with in hospitals are manifold. Frequently-changing access authorisations and areas which are restricted to patients and visitors but need to be quickly accessible for hospital staff.
Increased safety during the day-to-day hospital routine
A total of around 2,300 doors were equipped with electronic cylinders and handle sets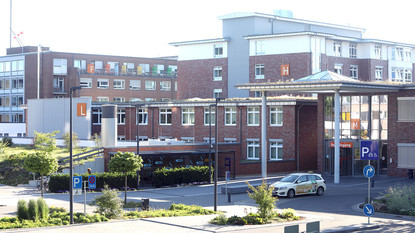 In terms of complexity and extension of the locking system, the CES OMEGA FLEX system in the Maria Hilf Hospital is one of the largest systems managed online.
A total of around 2,300 doors were equipped with electronic cylinders and handle sets, plus more than 100 wall terminals and 300 Access-Points. Around 3,000 electronic locking media were issued to permanent hospital staff, but also to tradespeople, maintenance and service providers, as well as students and temporary employees.

Finally, no more "running from door to door":

The entire locking system can be managed and controlled using a PC.
The electronic locking devices – be it a knob cylinder, a wall terminal or handle sets – are equipped with radio elements which communicate via Access-Points with the host computer. Any change to authorisations can be transferred quickly and easily to the respective doors without having to walk to the corresponding cylinder. With just a few clicks on the PC, it is possible to determine who has access when and where.
It is also possible to allow access for a limited period of time and to determine the times at which the cleaning personnel has access to the operating rooms.
At the same time, lost locking media can be blocked immediately. In return, also the locking devices transfer all access events wirelessly to the central software.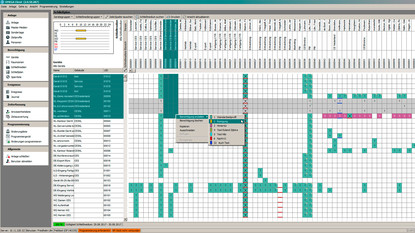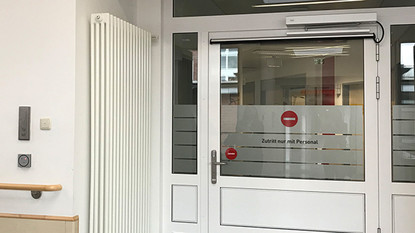 User-friendly access options
In some functional sections, wall terminals, electronic handle sets and pushbuttons are used, which together enable access options which meet user needs and requirements.
For example, staff can identify themselves at a wall terminal at the entrance to the operation room or cardiac catheter laboratory, the doors open automatically and patient beds can pass through without any problems. Access is possible at any time when identifying oneself at the electronic handle sets, but it is limited to a certain time frame when using the pushbuttons.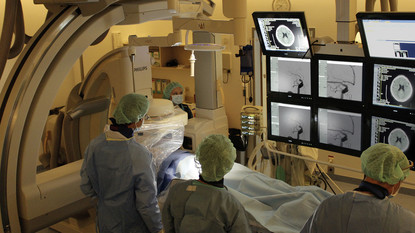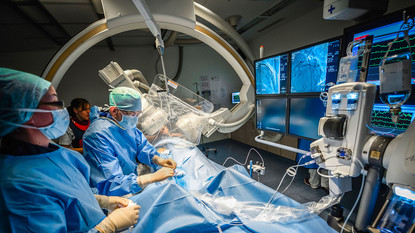 Implementation

There is no sign of any investment backlog which can be seen in many other places. Between 2002 and 2018 alone, around 200 million Euros were  invested in the modernisation and expansion of the Maria Hilf Hospital in Viersener Strasse in Mönchengladbach.This was an investment in the future, which has only recently earned the hospital a top ranking in the 2017 "Hospital Compass" of the Focus news magazine.

The cooperation between CES and Konntec has existed for many years now. Together, the companies installed the locking systems of the Borussia Park football stadium in Mönchengladbach and the Elbphilharmonie concert hall in Hamburg.