Access control for the Mathias Foundation
Klinikum Ibbenbüren and Mathias-Spital opt for AccessOne
Doctors and nursing staff use AccessOne ID cards to open doors, occupy lockers in the staff changing areas and log on to various hospital systems such as the KEMAS laundry system. Access authorisations for each employer are stored on the ID cards and are checked and updated on access readers installed at central locations in the hospital.
Requirements of the access control system
To map all security-relevant processes using a single means of authentication
To integrate hospital systems such as laundry, payment and documentation systems into the access system via interfaces
To integrate the lockers in the changing areas
To provide a sustainable system that can be gradually expanded
To offer a mix of cabled online access control and wireless, offline mechatronic locking devices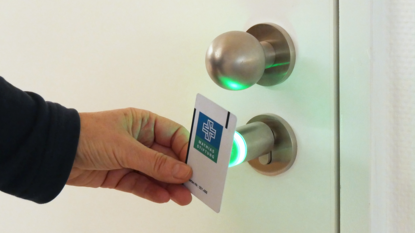 Access authorisation to wirelessly installed electronic cylinder. No alterations to the doors were required when changing to the AccessOne access control system. The mechanical cylinders were simply replaced by mechatronic cylinders.
"For us, the access control system is not just an electronic locking system but also a process tool that efficiently controls the security-relevant processes on our properties."
Johannes Ortmeier, departmental head of electrical systems for the Mathias Foundation and site manager for Klinikum Ibbenbüren GmbH
Integration of RFID furniture locks
Lockers allocated for 12 hours
In order to offer all employees the possibility of storing their off-duty clothes and valuables securely during their shifts, the locker systems in the changing areas were fitted with electronic furniture locks. The locker locks are programmed via the software in such a way that each employee can occupy a locker for a maximum of exactly 12 hours.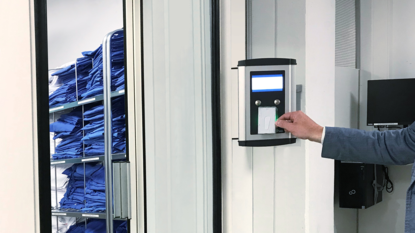 Access to the clean laundry storage area
Authentication via reader
A further function, the KEMAS laundry system, is also linked to AccessOne via an interface. Authorised employees identify themselves with their ID card at the KEMAS terminal, which then releases the revolving door to the clean laundry area. The employee collects their work clothing, which is fitted with RFID chips, and leaves the laundry area through another revolving door. At the end of their shift, the employee leaves the used clothing at the automated return point. The KEMAS laundry system logs the collection and return of the clothing, while assignment to the individual is via the ID card.
The Mathias Foundation: an overview
The Mathias Foundation pursues specifically Christian, non-profit and charitable objectives with the aim of promoting and carrying out the work of the Caritas organisation, care of the elderly and healthcare. As one of the largest employers in the field of in-patient and out-patient health and care services in the northern Münsterland region, more than 4,400 employees care for people in need. With altogether three acute care hospitals, a rehabilitation clinic, six senior citizens' and care facilities, medical care centres, outpatient nursing services, its own training facility and service organisation, the Mathias Foundation is an excellent example of holistic health care from a single source.