New design features in all CES locking systems   
Uniform, no-frills stainless steel finishes are out. The trend in door fittings and lever handles is increasingly for understated, dark tones with specially finished, matt surfaces. The locking systems manufacturer CES has tapped into this trend, developing new colours for its "Look & Feel" range. "The name is a perfect description," explains Ingo Küpper, a Product Manager at CES, based in Velbert. "The glimmering matt finish in tones of black, grey and bronze, and the velvety appearance of the surfaces, transform the lock cylinders into individual design elements that are a perfect match for the latest generation of shields and lever handles."

Innovative method 
The experts at CES' own galvanization facilities have developed an innovative method to achieve the special visual and touch qualities of the surfaces. In the new method, brass cases and knobs are treated in a multi-stage coating process, with the addition of fine metal particles. These catch the light and lend the cylinders and knobs the same velvety appearance as the blasted aluminium of modern door fittings and lever handles. "The cylinder might be the smallest visual element of the door, but if the colour and structure of its surface do not match its surroundings, it detracts from the otherwise refined interior design," says Ingo Küpper.  
As a result, CES has aligned the colours of its new designer range to the products made by leading fittings manufacturers. Six shades are available, from Midnight Black to Rising Bronze and Moonlight Silver. The "unicolour" variant uses the same shade of coating for the entire cylinder. In contrast, the "bicolour" version has a polished nickel-plated cylinder core, eliminating the risk of paint flaking even in situations of frequent use.
Complete set of fittings for the Middle East
In settings where a high level of functionality and security must not spoil the contemporary design, such as apartment buildings, lawyers' chambers, agency offices and doctors' practices, the new range of cylinders combines perfectly with fittings and lever handles to create a coherent overall impression. The new design is available for both mechanical and electronic locking cylinders and mortise locks, and even for certified fire doors. The "Look & Feel" range is also in tune with ergonomic requirements. The slightly rough, warm surfaces of the mechanical and electronic knob cylinders are significantly easier to grip than smooth metal designs and therefore particularly comfortable to use. CES is offering complete sets comprising cylinder, knob, mortise lock, locking plate and forend especially for the Middle East market, where a dark, matt look has long been in favour. "The emotional power of the colour palette comes over particularly well when the entire set is installed," says Ingo Küpper.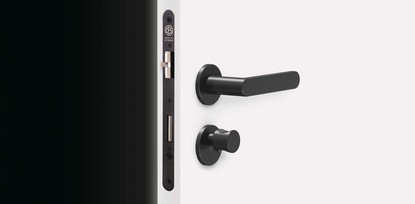 A comprehensive overview of the innovative designer range can be found on the new product microsite at https://look-feel.ces.eu.