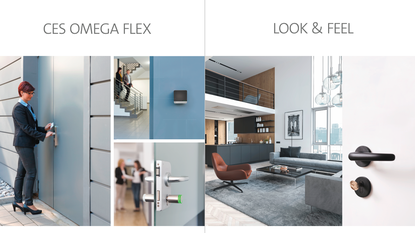 Smart and networked solutions    
Trade fair innovations ++ RFID furniture lock ++ refurbishment door fitting ++ electronic cylinder for server racks ++ design series 'Look & Feel' for high-quality interior fixtures
Mechatronic products from CES increase both the safety and efficiency of buildings and enhance the comfort of their users. In summer 2020 CES will present a series of new supplementary products which can be integrated into the CES OMEGA FLEX access system.
Expanded product portfolio
RFID furniture lock
For the very first time, we will present our new access solution for furniture and cabinets. The new solution is easy to install, fits on many already mechanically equipped cabinets and can be seamlessly integrated into the CES OMEGA FLEX system.
Refurbishment door fitting
A refurbishment door fitting specially made for interior doors completes the range of electronic handle sets. The stainless-steel shield can be directly attached onto the drill holes of existing fittings without any modifications to the door. Thanks to the flexible fastening system, this handle set can also easily be used without drilling any additional holes into the door. If desired, it is possible to continue using existing mechanical handle sets on the inside.
Electronic cylinders for server and network cabinets
This new type of locking cylinder was developed for server cabinets, machine doors or large fuse boxes which are equipped with swivelling lever handles. The advantage of the cylinder is that the swivelling lever can be conveniently relocked without renewed identification. Together with the locking cylinder, it automatically engages as soon as the locking position is reached. To open the cabinets, the RFID locking media can be used as usual.

Access control - flexible and simple
In addition to the electronic cylinders, CES offers a complete range of locking devices for equipping almost all types of building doors. Electronic handle sets for securing external doors and for use on internal doors can be installed without having to drill and thus can be easily and suitably fitted to practically any door. Wall terminals for operating automatic garage doors or barriers as well as automatic sliding doors complete the CES OMEGA FLEX product range.
All components support both the RFID systems LEGIC advant and MIFARE DESFire. In addition, they can be network-integrated via 868 MHz radio frequency and are ideally suited for small to medium-sized companies and large building complexes with many hundreds of doors.
CES OMEGA FLEX electronic components are designed in such a way that both function and system expansions can be done flexibly and simply, without having to replace the hardware.
From offline single doors for on-site programming to complex online access control systems which can be wirelessly linked via radio, suitable solutions can be implemented for every project.
Virtual network integration via Data-On-Card solutions as well as wireless network integration can be easily combined within one system.

Design series Look & Feel
We offer the haptic and visual experience of our new design series in combination with many of our locking solutions, including our electronic cylinders. A velvety feel and refined look are combined with maximum functionality.